We'd like to introduce Ferdy S.G. Dumel, our main contributor of content, to you. After having organised marketing seminars with speakers like Jack Trout and Cor Boonstra – the notorious former Philips CEO, Ferdy partnered with such companies as PwC, ING, BCG, Canal+, and Unisource. At several occasions, he delivered outstanding results. He solved many business issues with creative-analytical thinking and with his 'hands-on' mentality he gained supporters wherever he set foot. We could not miss out on such a talented soul, with impressive marketing experience, and we are happy to have him on board.
Ferdy graduated in International Affairs and Market Research in good, old London and Amsterdam. Having worked in the media, consulting, telecom and the financial industry as a marketing and communications consultant for over fifteen years, he went overseas and decided to devote himself to writing. Pandora's Matryoshkas, his quirky, kinky international debut is a sly psychological thriller, a chastening mind f* totally 'out of the box'. This dark suspense novel differentiates; by design the plot moves a tad slower than the work of some authors, who have chosen Russia for their mis-en-scène, to build up to a climax, when the rug is being yanked out from underneath the reader.
You can find Ferdy Dumel tweeting about 'Leadership glitches and gains', and when he's not writing, he may be blogging about some of his favourite topics such as Francis Bacon, Talking Heads, Nirvana or Russian dolls. He's an ardent fan of quality drama, like in the works of Mikhail Bulgakov, Stanley Kubrick or Roman Polanski. An ultimate weak spot has he got for the Ukrainian borsch cooked by Elena, his muse, while he adores French crepes well-served in the Provence, slumbering autumn evenings in Athens, or the as ever lovely early spring days in Tuscany. In summer, he's into Ashtanga yoga on the shores of the Black Sea. 'Namaste bitches!'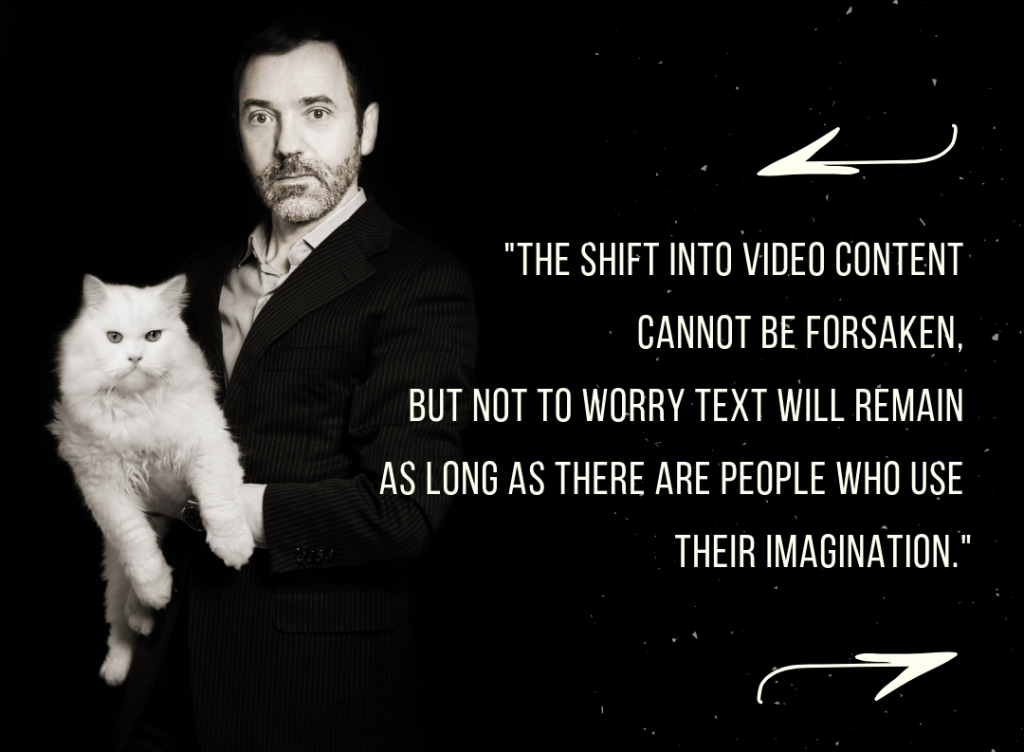 When we ask him about the future of content writing, he smirks and says: 'The shift into video content cannot be forsaken, but not to worry text will remain as long as there are people who use their imagination.' Calmly he continues: 'To up-coming writers or text-based content creators I say don't be wary, read a great deal of literature in the genre that you want to cover before starting to write seriously. First and foremost, it takes a while before your prose gets on the level of your example writers. You will feel it once you have arrived at that point, meanwhile try to leave out focusing on 'your style'; a personal writing style can only be developed over time.
He admits that a role model to keep him on track does not exist. 'You know,' he says, 'it all comes down to disciple,' and then with a broad smile, he continues: 'But that's not for everyone, as I happen to know a Yorkshirian aspirant-writer who tries to find his creativity in magic mushrooms… but that's another story.'
About marketing/ad books and publications he says that 'The 22 Immutable Laws of Marketing,' Al Ries and Jack Trout is still on his list, next to 'Start with why: How great leaders inspire,' from Simon Sinek, and last but not least the free downloadable 'Content Marketing Handbook'.